Since 1929, Pleuger has offered its clients in the oil & gas industry the best in design, manufacturing and service. Our 90+ years of experience in producing electric submersible motors coupled with our Centre of Excellence and 24/7 support make Pleuger a name you can trust. With a suite of tailormade solutions fit to your specifications, we always put your needs first.
Located in Hamburg, Germany, with global outreach, all our customers benefit from reduced costs, attention to health and safety, and responsibility to the environment, wherever they are based.
Integrity, respect and teamwork drive our offer at every stage of development. Our insistence on smart investments into research and personnel makes us dependable business partners for any and every project demand. Pleuger's Centre of Excellence at our Hamburg headquarters devotes time to all divisions of the company, fostering an atmosphere of collaboration. Such communication ensures that our end-to-end offer keeps lifecycle costs low and value high. Pleuger guarantees a thorough after-sales service with our network of global partners from Moscow to Miami, meaning we can always come to you.
Pleuger's range of industry applications offers bespoke designs to fit every project need in Offshore and onshore applications:
Seawater lift pumps
Cooling water pumps
Service water and bilge pumps
Ballast and de-ballast pumps
Firefighting & Jockey Pumps
Emergency drainage, Drain cassion
Booster systems
Process pumps
Crude oil extraction
Cavern storage of crude oil and refinery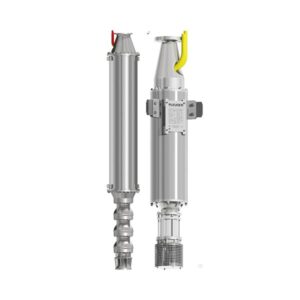 Submersible Pumps
Bottom Intake Type (Polder)
(For Low Submergence Depth)
Submersible Pumps
Middle Intake Type (Polder)
Reciprocating Plunger Pumps
Our reciprocating pumps can be used in various applications:
LPG/ NGL
MEG/ TEG gas drying
Methanol injection
Water injection
Condensation
Slop oil transfer
Boiler feed
Reverse osmosis
Hydrotesting, pipeline testing & flushing
Water jetting/ Descaling
Fatty acids/ Detergents
Ammonia/ Carbamates